Oven Cleaning Service
Oven Revival is a local independent company providing oven cleaners in West Sussex and East Hampshire.
Oven Cleaners in West Sussex and Hampshire
Unlike other oven cleaning processes we do not use any caustic or dangerous chemicals. Our chemicals are all low ph with no fumes or unpleasant odours.
Firstly, our technicians will strip down the appliance by removing all the shelves, interior 'self-cleaning' panels and fan guard (behind which an amazing amount of gunge normally lurks). These parts then go into a custom-made, fan-based heated system where the grease and burnt-on food deposits are 'erased'.
Environmentally-friendly oven cleaning
Our cleaning technician returns to the oven where our specially-developed, caustic-free formula is applied to the interior of the oven. Using our cleaning tools and some hard work, all grease and burnt-on carbon is completely removed and the interior of the oven is then completely de-greased and polished along with the bits that you can't normally get to (e.g. round the fan, between the door glass etc). The remaining parts in the system are then rinsed off and the oven is re-assembled. Using our de-greasing solution, the exterior of the oven and hob is cleaned, polished and left shining.
Now your once filthy but vital appliance is gleaming and really does 'look like new' inside and out!
Hobs, Extractor Hoods, Agas - treated with the same care and respect
The same kind of care and attention can also be given to your hob, extractor-hood (including free primary filter) range, Aga and microwave.
No caustic chemicals are used at all in the Oven Revival system. We value our own health just as importantly as yours and as we use the products all day every day, we feel it is important that there are no harmful or toxic fumes.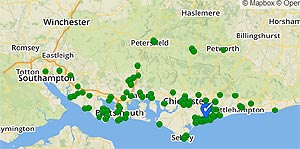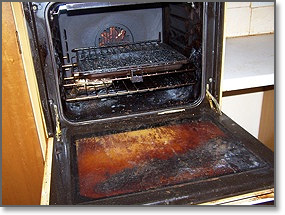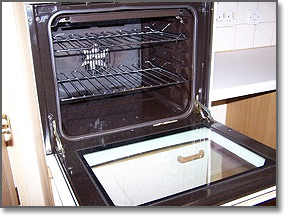 Let someone else do the job you hate!

Contact us on FREEPHONE: 0800 612 6675 - Mobile: 07525 615 564 or email Oven Revival if you would like

to know more about our service.
Customer Reviews
Full oven clean and ceramic hob. "I have used Michael in the past and will keep using him. He is very courteous professional and my ovens always look fantastic when best finished."
Customer Chichester.